Since the start of 2021, 2nd Dynasty has had an official license to produce 3D printable objects from the venerable Traveller Role Playing Game universe. Over the coming years, we will be releasing classic Traveller starships in glorious, highly detailed 28mm (1:60) scale, tactical ship miniatures for ship to ship combat, and crew scale miniatures based on iconic Traveller designs to the 3D printable market.
We have been working in close partnership with Marc Miller himself of Far Future Enterprises to ensure that we can act as reverent custodians of the Traveller license. It should be noted that we only have the license to produce 3D-printable ships and miniatures in STL format, and that this has no impact on T5 or Mongoose Traveller at all. Design wise, T5 or Classic Traveller are what we have to work with.
Coming to MyMiniFactory
Our first crowdfunding campaign will feature the Type S Scout/Courier followed by the Free Trader Beowulf later in the year. We will also feature a variety of vehicles and miniatures to populate your tabletop. While we are not offering pre-printed ships and miniatures, the beauty of STL printables is that you can rescale them to suit your needs. Our ships print well in 28mm, 15 mm, or larger.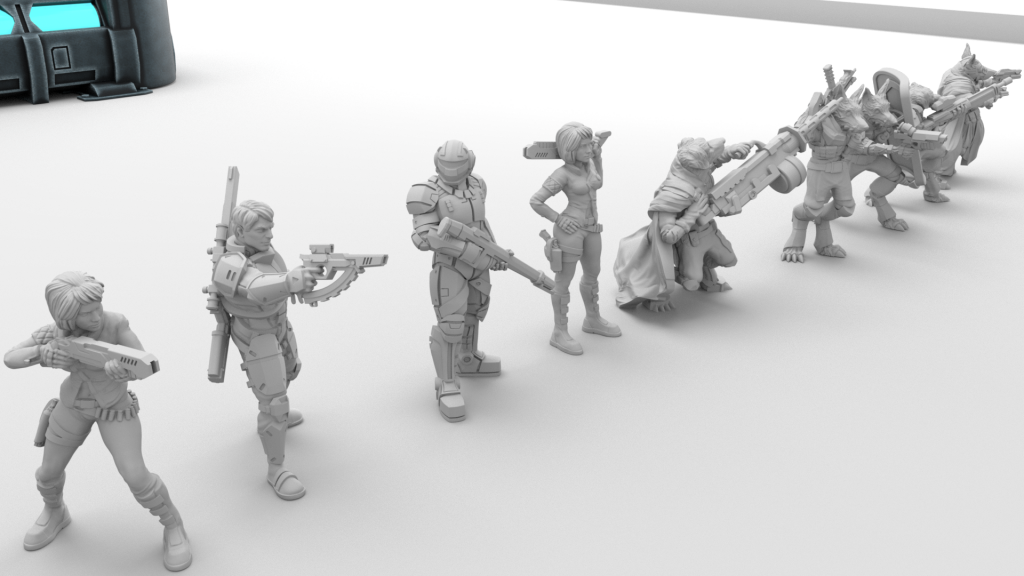 Many Traveller RPG fans might be wondering which versions of these ships we are working on. We will be sticking to closer to T5 and Classic Traveller, with interiors based on the T5 deck plans, and exterior of the Type S in particular will reflect the deck plans from Starships & Spacecraft from Far Future, and favour the sharper angular arrowhead shape, with a three deck interior.
At 28-mm scale, each 1.5 m tile on a ship will be 1″ square. Compromises will have to be made due to the difference between deckplans and 3D models, but we are consulting with Marc Miller where these compromises must be made. To get a good idea of the level of detail we will be offering, we invite you to take a look at our existing non-Traveller designs.
Follow the Progress

We stream on Twitch once per week every Friday at 3 pm Central European Time/9 am East Coast USA. During these streams, we will be offering a peek behind the curtain as we bring Traveller ships to life for 3D printing. Many of these films are also included on our YouTube channel.
We are most active on Discord, but also have a presence on Facebook, Twitter and Instagram. See full links here.