Explore deep space and final frontiers with this full 28-mm scale Scout Ship, designed stock-standard for long haul endurance scout missions. Includes two manned dorsal turrets for defence in contested or unknown territory, a full sensor suite package for scanning new systems, a well equipped engineering section, cargo hold, living quarters and a 5-station forward bridge.
We launched Scout Ship Beta, a 3d-printable 28-mm scale starship for tabletop play and display, in Starship III, our third Kickstarter. As a result of many unlocked stretch goals there now is a plethora of variants.
The ship is detailed inside and out and a variety of configurations can be used to customise the deck plans
Modular interior – customise the layout however you like using other Starship or compatible tiles
The scout ship has moderately sized parts, with options for large prints to print with less parts
Contains over 80 parts
Largest part is 129×125×97mm (5×5×3.8″)
There are some additional margins if parts are rotated, etc.

Scout Ship Beta includes a fully realised interior and exterior that can be printed on your home FDM 3D printer, or ordered through a print service to serve tabletop miniature play or display with 25-32 mm miniatures.
We offer Scout Ship Beta downloadable STL file collection on a variety of sites, but our preferred distributor is MyMiniFactory, where we are able to offer our products at the most competitive prices.
Get Scout Ship Beta here, or click the MyMiniFactory image to the right.
Originally conceived as an overambitious stretch goal for Starship II, Scout Ship Beta has evolved into a highly detailed 28-mm scale starship for tabletop play and display. It got its humble beginnings as a game asset to an abandoned PC game project of creator Ben Mowbray's.
Of all our ship designs, it is perhaps the closest to our design aesthetic and nostalgic influences, meshing the spirit of Space Battleship Yamato with the designs of Ron Cobb and a splash of the galaxy far, far away.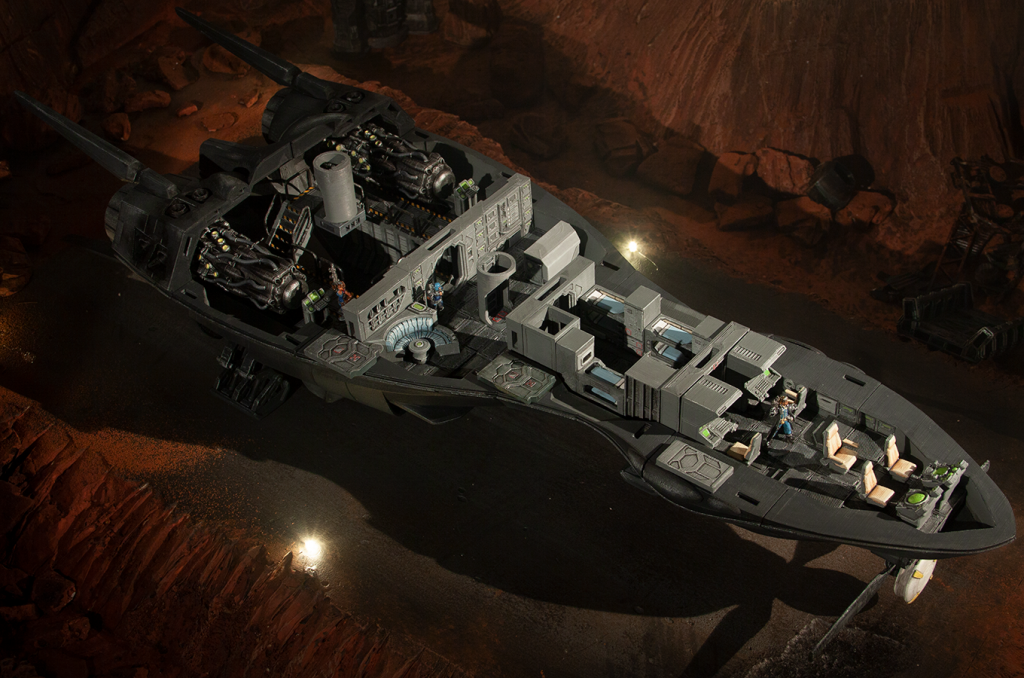 Scout Ship Beta can be customised with a wide variety of modifications, swapping out engines, adding wings, a turret, or warp nacelles. Many combinations are possible for most variants.
A reminder that all of these add-ons and variants require the base version of Scout Ship Beta.
Airlock Variant
While the stock scout ship might be a sleek, streamlined ship, its only standard airlocks are its cargo bay and dorsal airlock, neither of which are convenient for docking. The Airlock Variant adds the option of one or two side airlocks, fit for use with a boarding tube for more convenient docking.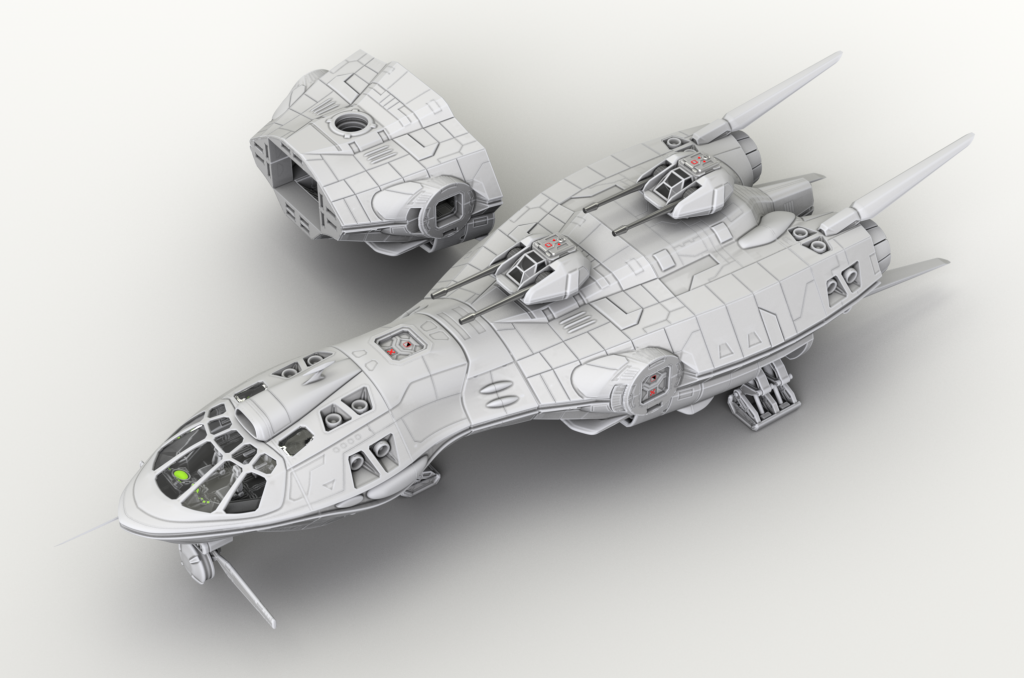 Compatibility: The Side Airlock variant is compatible with the Hammerhead, Stretch and Missile Variants.
Gunboat Variant
The Gunboat Variant adds a capital-sized barbette rather than a turret to the dorsal section of the ship, above the engine room, whilst adding the side turrets of the patrol variant.
The standard barbette is a triple barrelled mostrosity for levelling at much larger ships, but can be replaced with any of the options from Turrets Pack IV.
Compatibility: Compatible with all variants except the Cargo, Civilian, Patrol and Side Airlock Variants.
Missile Variant
By stretching out the neck of the scout ship, the vessel can be armed for ship to ship combat with this Missile Variant. The tubes can carry missiles, or double as pods for launching probes (Turrets Pack III).
Compatibility: The missile variant is compatible with all variants except for the Stretch and Cargo Variants.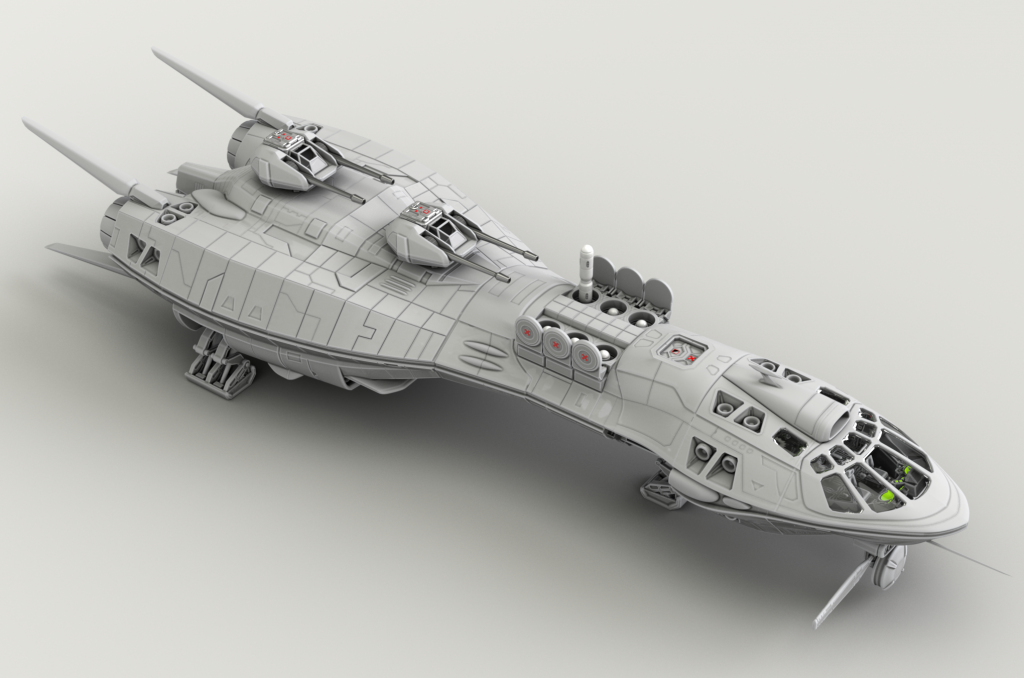 Civilian Variant
The Civilian Variant adds a second deck to the rear of the Scout Ship, replacing one of its dorsal turrets with a more spacious living arrangement.
Compatibility: The Civilian variant of the Beta is compatible with the Cargo, Stretch, Missile and Hammerhead variants.
Patrol Variant
The Patrol Variant arms up the scout ship Beta to trade speed and longer operations times with three additional turrets.

Additionally, the following add-ons may be of interest. Turrets Pack I, II and III add a variety of turrets and weapons directly compatible with all versions of Scout Ship Beta. If you have the Gunboat Variant of Scout Ship Beta, you can additionally make use of Turrets Pack IV, which is compatible with the large style turret type of that variant.