Need a way to get your units from the ground to orbit? This space shuttle is fully modular and can be configured as a dropship, cargo shuttle, or even a small starship. The stock standard aerodynamic fuselage comes complete with manoeuvring thrusters, sensors, landing gear and articulated main engines for VTOL operations.
Our very first full 28-mm scale starship is the Shuttle Alpha. Our smallest ship so far, it still is 13″ (33 cm) in length fully printed at that scale, and has a high level of modularity.
Fully Modular Interior – customise the layout however you like using any of our OpenLOCK interior titles or your favourite 3rd party pieces
Alternate parts – Several part variants for both large and small print beds
Simple and Detailed – We present two versions of the shuttle, a high detail and a low detail.
Bang for Your Buck – Contains over 50 pieces
Low Support Requirements – We have optimised parts for minimal support requirements; Some overhangs will still need some supports
Modular – The Shuttle is compatible with a variety of ship variants and add-ons.
NEW! Space Shuttle Alpha has gotten a makeover, with the MKIV, a brand new Shuttle Alpha variant that premiered in early July on Kickstarter.
The shuttle was then released the 27th of July, 2022 on MyMiniFactory Frontiers.
Space shuttle alpha includes a fully realised interior and exterior that can be printed on your home FDM 3D printer, or ordered through a print service to serve tabletop miniature play or display with 25-32mm miniatures.
We offer Space Shuttle Alpha as a downloadable STL file collection on a variety of sites, but our preferred distributor is MyMiniFactory, where we are able to offer our products at the most competative prices.
Get Space Shuttle Alpha here, or click the MyMiniFactory image to the right.

Space Shuttle Alpha was our first 3d-printable 28-mm scale starship for tabletop play and display. It was initially created as a stretch goal for Starship II, our second Kickstarter. A more detailed version was released in Starship III, and many unlocked stretch goals added a plethora of variants.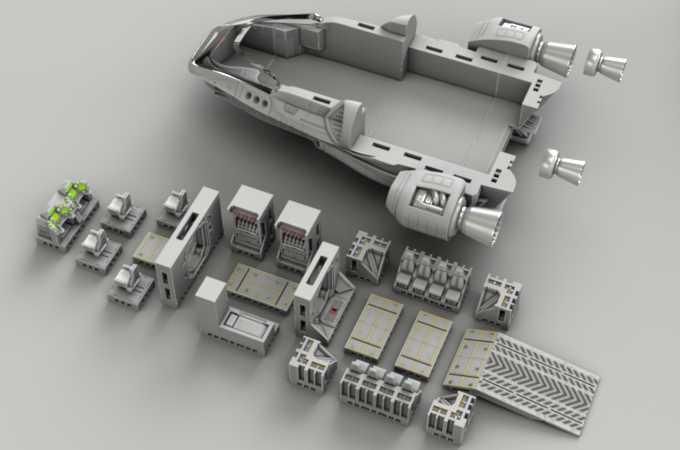 Shuttle Alpha can be customised with a wide variety of modifications, swapping out engines, adding wings, a turret, or warp nacelles. Many combinations are possible for most variants.
Missile Variant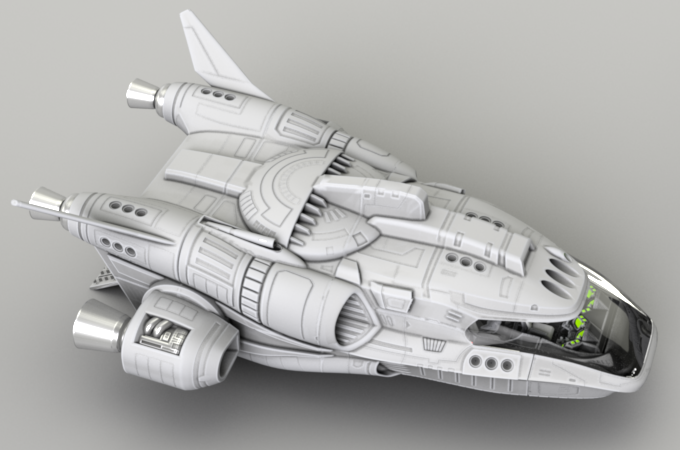 The Missile Variant adds internal missile racks to the Alpha which launch a missile vertically up out of the missile slots.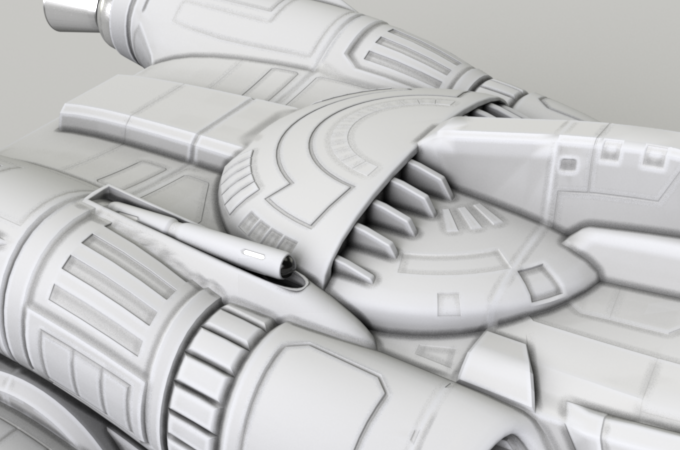 Compatibility: At present, the Missile Variant should be compatible with all other variants save the Turret Variant.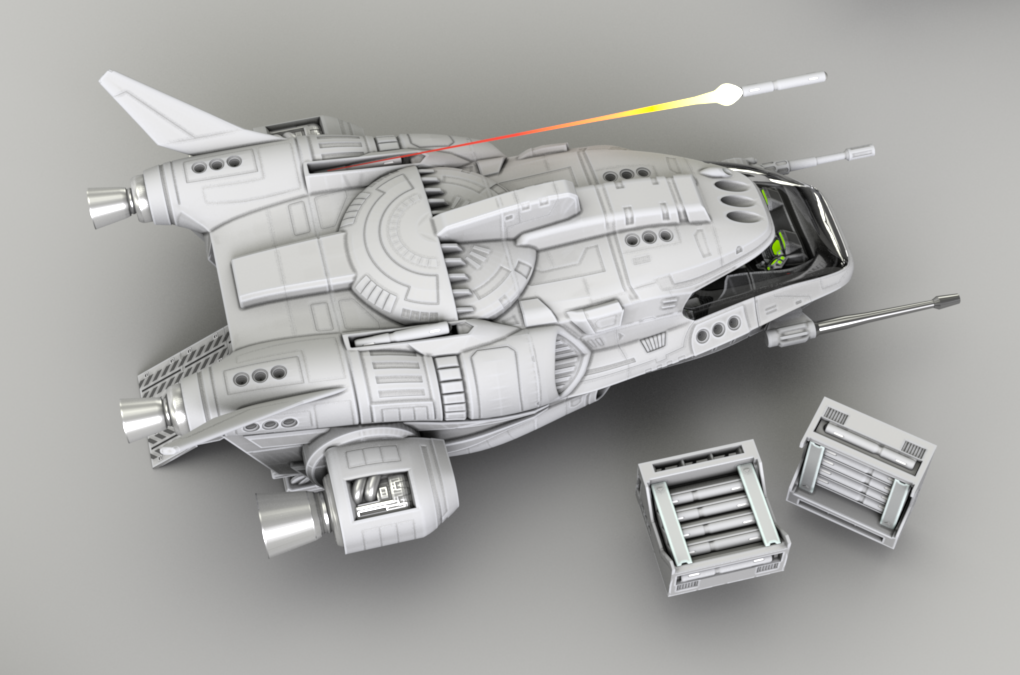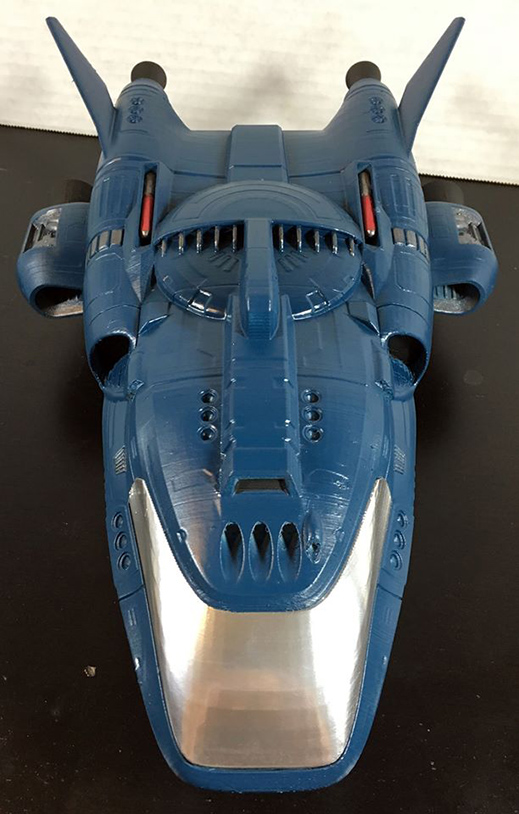 Bus Variant
The Bus Variant lengthens the ship by two inches, providing additional interior space.
Compatibility: The Bus Variant should be compatible with all other Shuttle Alpha variants.
Turret Variant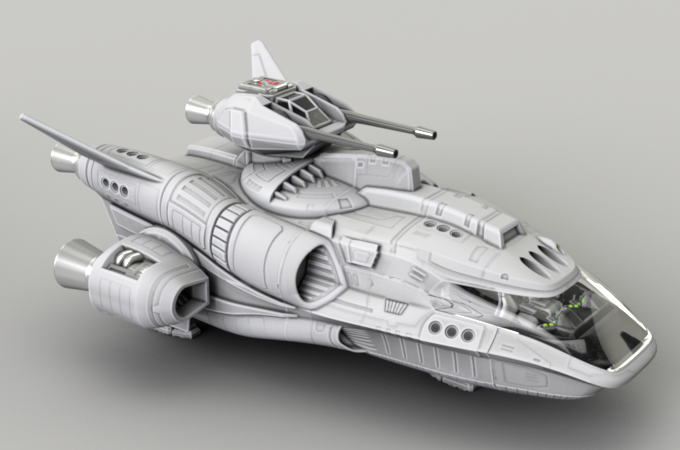 The Turret Variant places a dorsal turret placement over the shield generator towards the rear of the shuttle. A standard turret comes with it, but can be replaced with many of the turrets from Turrets Pack I, II and III (see Add-ons, below).
Compatibility: At present, the Turret Variant should be compatible with all other variants except for the Missile Variant.
Winged Variant
The Winged Variant replaces the standard VTOL engines with winged versions. The wings are still articulated for VTOL takeoff.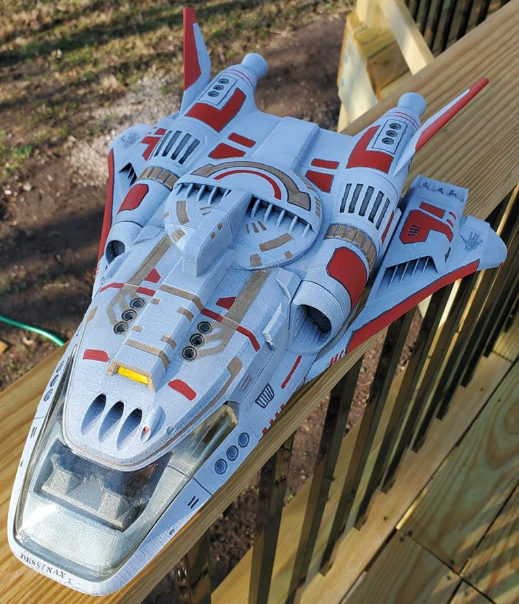 Compatibility: The winged variant also has parts to add wings to the Bus variant, making it compatible with the Bus, Missile, Turret and Twin Engine Variants.
Warp Variant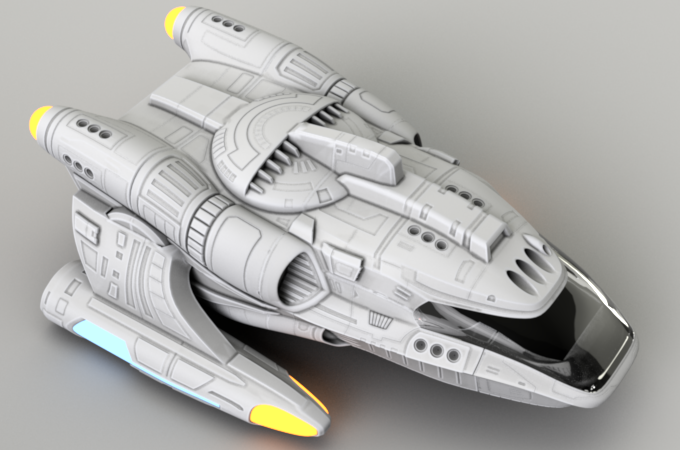 The Warp Variant replaces the VTOL engines of the shuttle with two warp nacelles, allowing you to turn it into a sleek shuttlecraft.
Twin Engine Variant
The Twin Engine Variant replaces the regular VTOL engines with a streamlined variant using multiple smaller engines. It functions just the same, but with a different aesthetic.
Compatibility: The twin engine variantis compatible with all variants except for the Warp and Winged variants.
Purchase ship modifications below by clicking on the MyMiniFactory links in the next sections to see their sales pages.
A reminder that all of these add-ons and variants require the base version of Spac Shuttle Alpha.

Additionally, the following add-ons may be of interest. Turrets Pack I adds a variety of turrets and weapons. If you have the Kickstarter version of Shuttle Alpha, you can use the had points to add these weapons to the nose, while if you have the turret variant of Shuttle Alpha, these turrets will fit nicely, as will the ones from Turret Packs II and III.